SCHOOL CLOSURE AND ENGLISH LEARNERS:
A Review of COVID-19 Operations Written Reports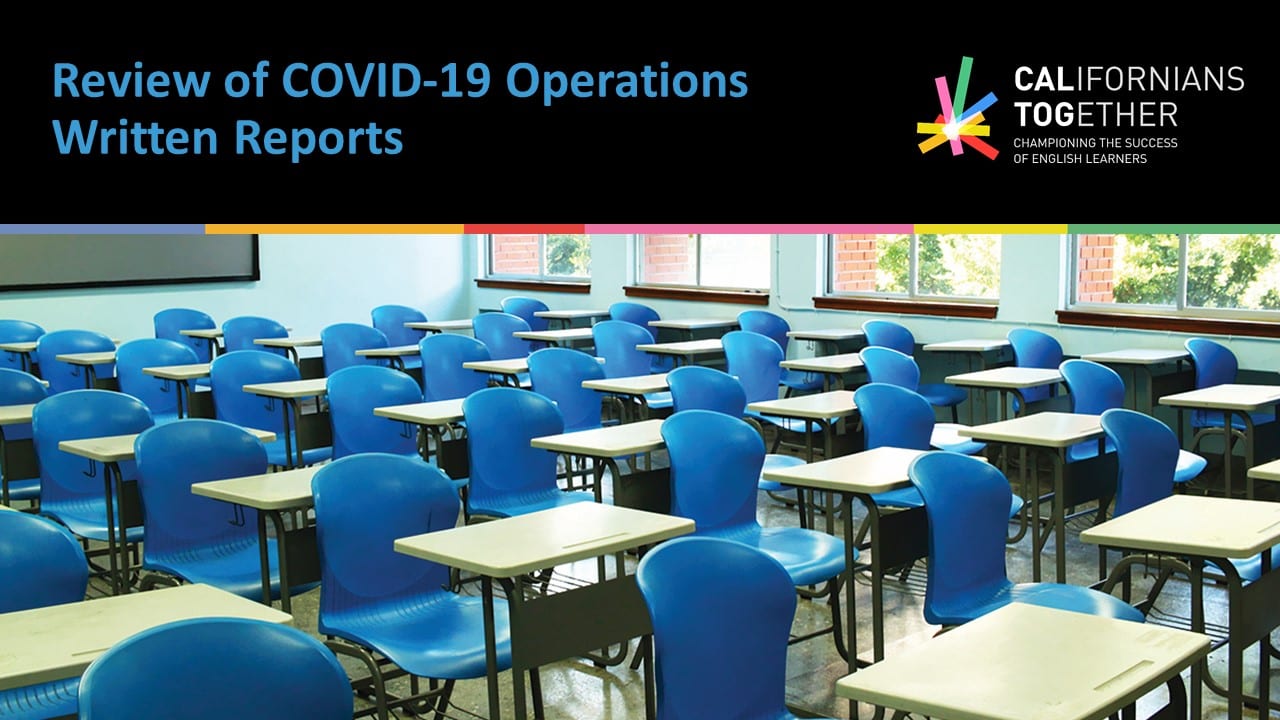 COVID-19 hit California like a bolt from the blue. No one could have predicted the size and scope of the threat it posed until it was too late, and public institutions—especially schools—were largely left scrambling to sketch hasty plans to continue their operations. But as California approaches half a year of lockdowns, school closures, and economic restrictions related to the COVID-19 pandemic, it is time to cease treating it as a crisis to be coped with and begin treating it as a situation to be managed.
Better mid- and long-term planning begins with an assessment of the chaotic spring. How well did schools respond in the moment? What worked well, what was left out then—and how can schools do better in the upcoming school year?
To help answer these questions, Californians Together launched a collaborative review process of 79 California school districts' COVID-19 Operations Written Reports. This brief offers a window into local districts' decision-making and can serve as a guide for future improvement.
Twitter:
Read @caltog's NEW policy brief: "School Closures and English Learners: A Review of COVID-19 Operations Written Reports". What worked well, what was left out then—and how can schools do better in the upcoming school year? https://bit.ly/2DmwC4K
Facebook:
NEW! Policy Brief from @CaliforniansTogether: School Closures and English Learners: A Review of COVID-19 Operations Written Reports. How well did schools respond in the moment? What worked well, what was left out then—and how can schools do better in the upcoming school year? To help answer these questions, @CaliforniansTogether launched a collaborative review process of 79 California school districts' COVID-19 Operations Written Reports. These documents offer a window into local districts' thinking and can serve as a guide for future improvement. https://bit.ly/2DmwC4K