LONG TERM ENGLISH LEARNERS
Research and Recommendations to Support California's Long-Term English Learners
Of California's over six million public school students, 1.148 million are English learners, and 200,000 of these students are long-term English learners (LTELs). They are ELs who have been in US schools for six or more years without reaching levels of English proficiency to be reclassified. Another 130,000 ELs are considered at risk of becoming LTELs.
Starting with the release of Reparable Harm in 2010, Californians Together's LTEL research and policy work has created an urgency for the state and nation to focus on this group of English learners. Over the past decade, there have been significant policy changes, a growing body of research, and an intentional focus within California's education field to support LTELs in secondary schools and to prevent them in lower grades.
Over those ten years, the numbers and percentage of English learners (ELs) who are LTELs have decreased slightly over the past decade, but continuing this slow rate of change will leave far too many students behind. Californians Together newest report, Renewing Our Promise, is a call to action to use the information and policy gains of the last decade to accelerate improvement for these students. In particular, the English Learner Roadmap offers key guidance to school districts for improving outcomes for EL students-including LTELs and those at risk of becoming LTELs.
Renewing Our Promise
By Manuel Buenrostro & Julie Maxwell-Jolly, Ph.D.
Californians Together's newest LTEL report includes updated LTEL background and outcome information; research landscape summary; review of policy changes; survey results from 107 California school districts with the highest number and/or percentage of LTELs; examples of successful strategies for serving LTEL students and those at risk of being LTELs; and state and local policy recommendations.
Purchase Print Copy
Download Full Report
Download Executive Summary
Open Social Share Toolkit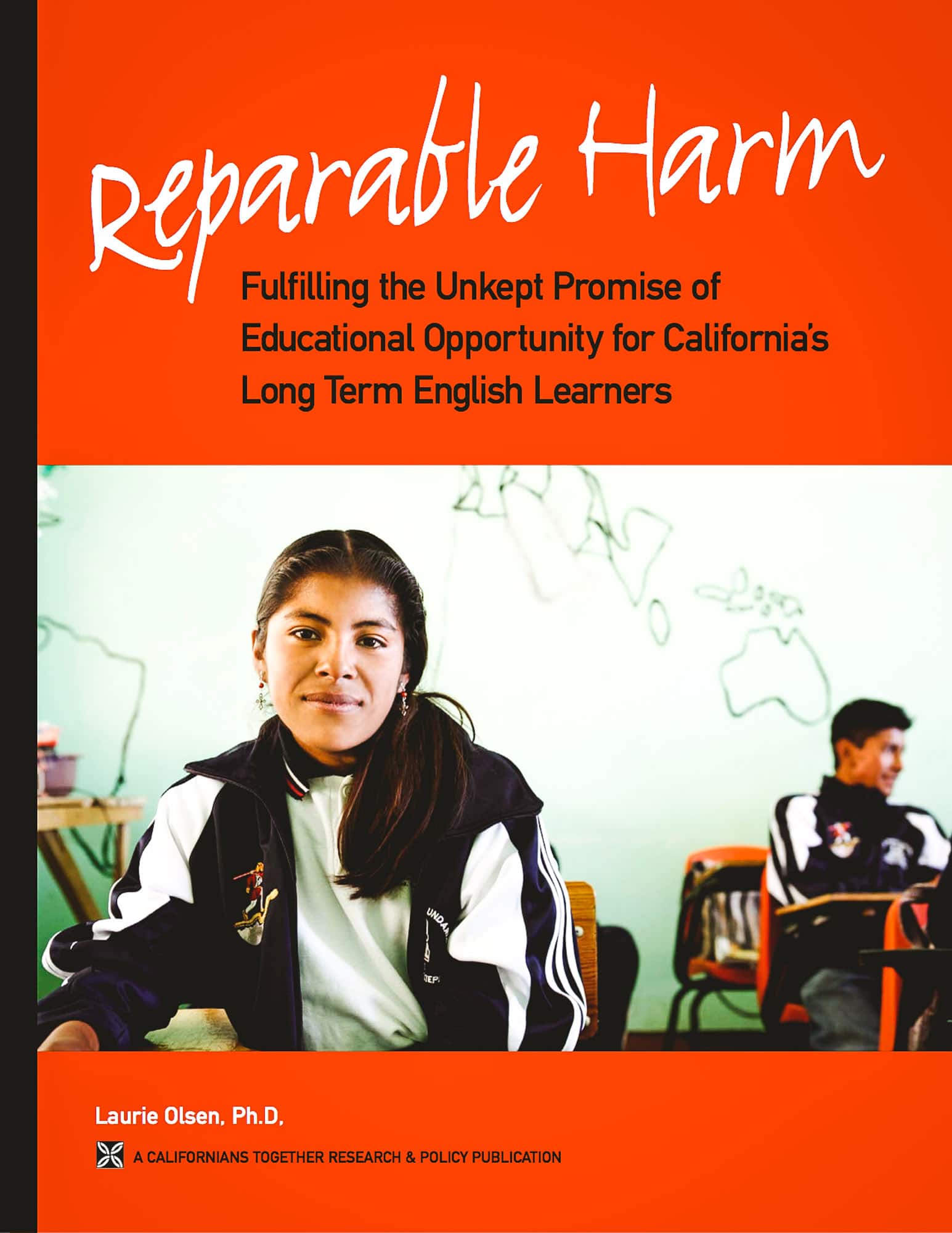 Reparable Harm
By Laurie Olsen, Ph.D.
This report and research published by Californians Together and funded by The California Community Foundation, presents the results of data from 40 school districts and over 175,00 secondary English learners highlighting the urgent need to address the language and academic needs of Long Term English Learners (LTELs). It calls upon state policymakers and leaders to provide solutions and outlines basic principles and promising approaches for school districts to meet the needs of LTELs more effectively.
Physical copies are available for purchase in our store.
Available in English and Spanish.
Download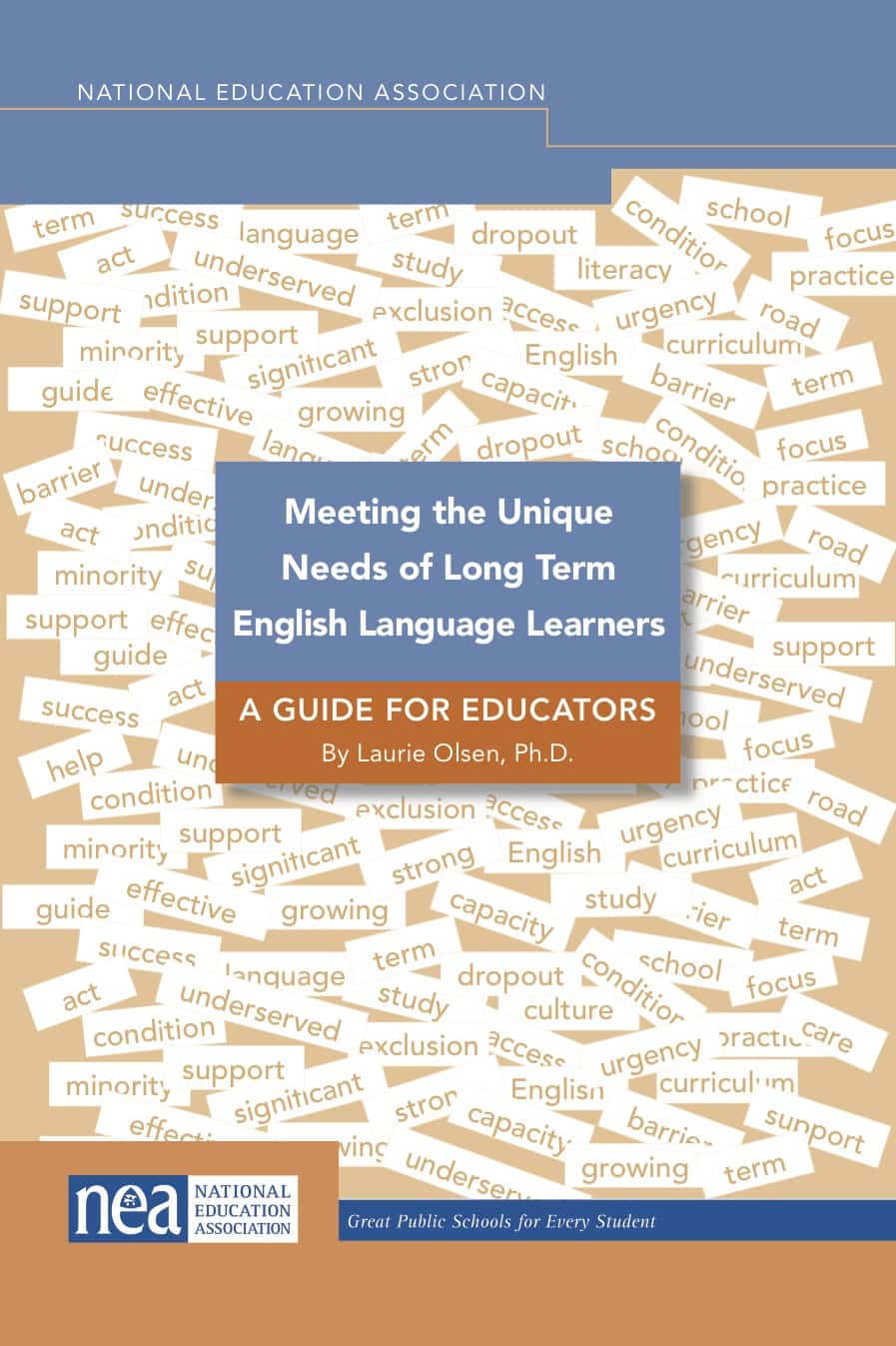 Meeting the Unique Needs of Long Term English Learners
A Guide for Educators
By Laurie Olsen, Ph.D.
Written for educators, administrators, and policymakers, this booklet provides a research-based overview on the large number of Long Term English Learner students, who despite having been enrolled in United States schools for more than six years, are not progressing towards English proficiency but are continuing to struggle without the English skills needed.
Download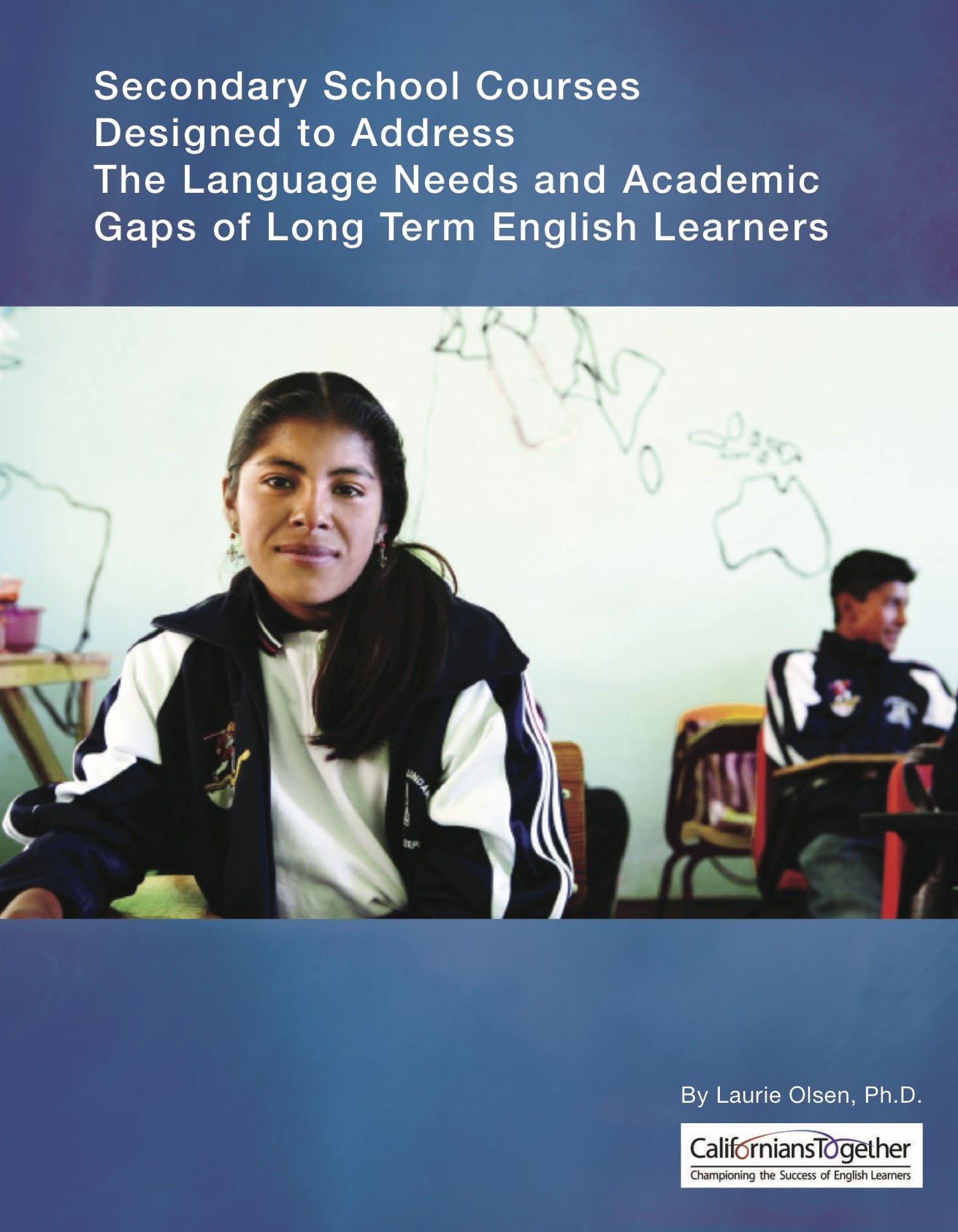 Secondary School Courses Designed to Address the Language Needs and Academic Gaps of Long Term English Learners
By Laurie Olsen, Ph.D.
Well over half of the secondary school English Learners in California are Long Term English Learners – struggling academically and stuck in progressing towards English proficiency despite six or more years in U.S. schools.   Many secondary schools and districts, feeling the urgency of meeting the needs of these Long Term English Learners, are attempting to modify curriculum or create new courses that address the unique language and academic gaps of these students. This publication culls the lessons learned from districts throughout the state and provides needed guidance for the field.
Download
Long Term English Learner Articles in ACSA Leadership Magazine
The November/December 2010 edition of Leadership published by the Association of California School Administrators contains two wonderful article about the research and district efforts to address the language and academic needs specific to long term English learners.  The research article is written by Dr. Laurie Olsen, author of Reparable Harm, and the district perspective is written by Jennifer Robles, director of Bilingual Education Programs, Ventura Unified School District.  These two articles are posted with permission of Leadership magazine, published by the Association of California School Administrators.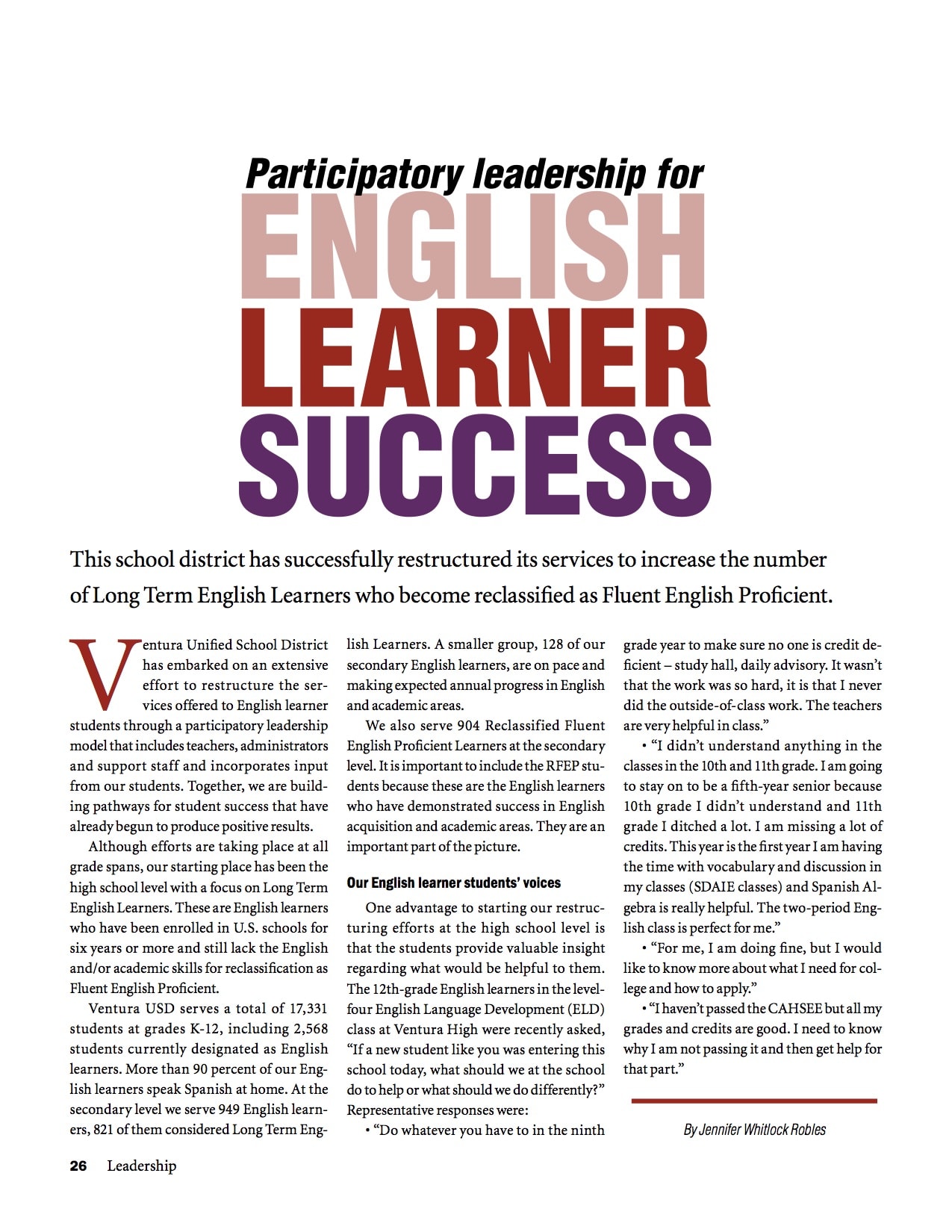 Download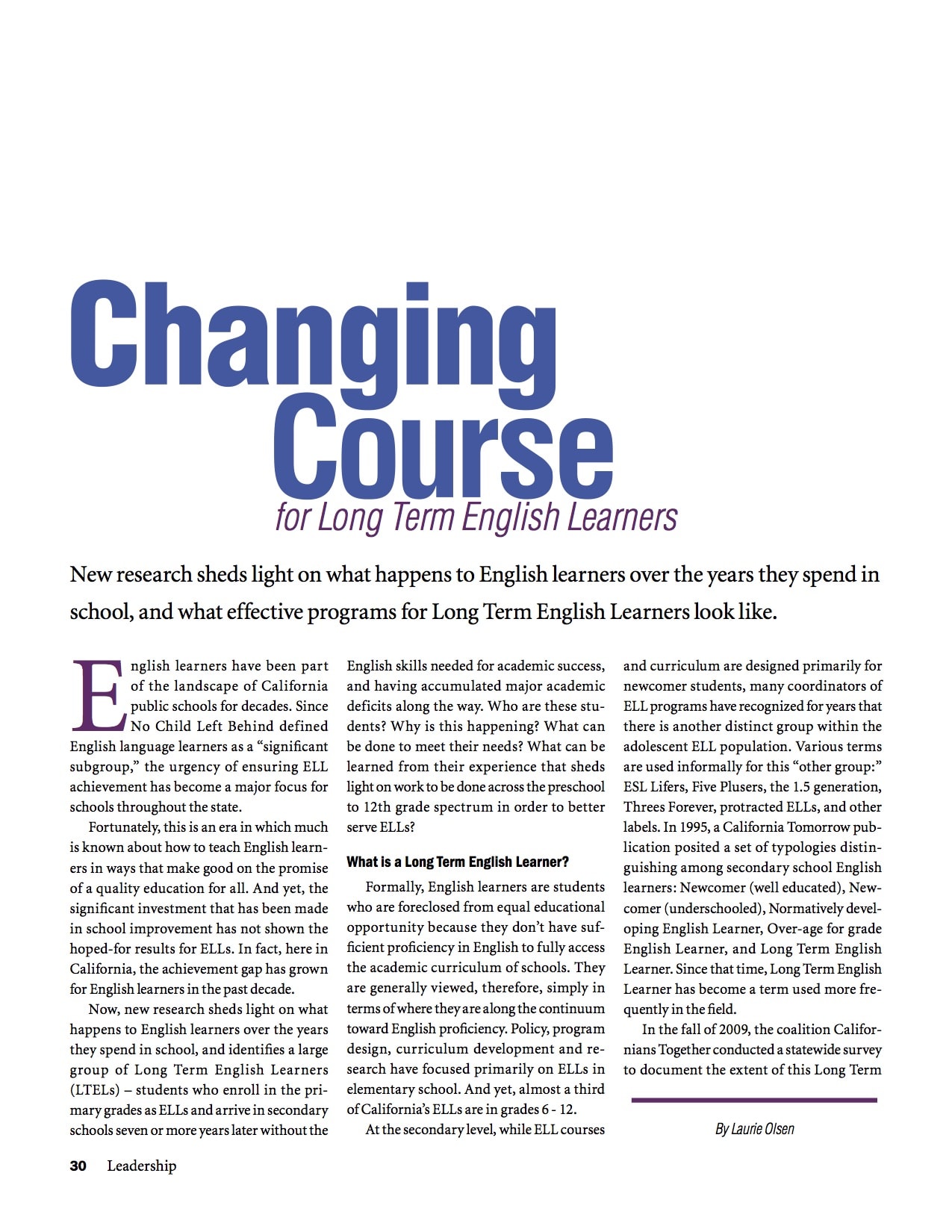 Download
LEARN MORE ABOUT LONG TERM ENGLISH LEARNERS
WEBINARS
IN THE NEWS/MEDIA
Stay Social
Join Our Advocacy Network