NEW BOOK FROM CALIFORNIANS TOGETHER EXAMINES THE HISTORY OF ENGLISH LEARNERS IN CALIFORNIA AND OFFERS IMPORTANT LESSONS FOR THE NEXT GENERATION OF LEADERS IN EDUCATION EQUITY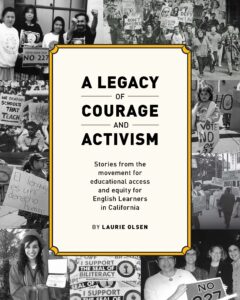 Now available exclusively from Californians Together in our online store.
Long Beach, CA — Californians Together announces the publication of A Legacy of Courage and Activism: Stories from the movement for educational access and equity for English Learners in California written by Dr. Laurie Olsen. Through interviews with leaders at the forefront of the movement, Olsen tells the story of what happened in the 20 years after the passage of Proposition 227 which nearly decimated bilingual education in California and how advocates overcame anti-immigrant backlash to move the state in a direction that embraces language and cultural diversity. A Legacy of Courage spans 70 years of English Learner history that gives context to that evolving landscape. Born from case studies for the English Learner Leadership & Legacy Initiative (ELLLI), the book offers up lessons for the next generation of leaders as they take up the mantle in addressing ongoing issues of education equity like access to quality bilingual programs and English language development, bilingual teacher shortages, dual language learners in early childhood education, and accountability for English learner achievement.
"The story of getting from there to here is a dramatic and important one," says Olsen. "It's a story of demographic change, of racist backlash and courageous movements that pushed towards inclusion and justice. That history illuminates the strategies that can be used to advance change in policies and practices to achieve a more equitable education system."
With the passage of the ballot initiative Proposition 58 in 2016, and the subsequent adoption of the California English Learner Roadmap in 2017 as new state English Learner policy, California chartered a new course of renewed commitment to multilingualism.
"While we have a moment of opportunity with new more inclusive policies, we still don't have the capacity, or in some cases still not the attitudes and beliefs, to deliver the schooling needed for this population of students," adds Olsen.
Californians Together, a statewide coalition advocating for equitable education policy for the state's 1.1 million English Learners and publisher of the book, hopes that this history will empower those currently enrolled or entering higher education to become agents of change whether they are actively working toward a career as bilingual educators, policy makers or activists.
Martha Hernández, Executive Director of Californians Together adds "There is a new generation of young people who are now working in the legislature, in school leadership, as educators, and as advocates who are themselves from communities of color, communities of immigrants, and communities who speak diverse languages that bridge across multiple cultures. We hope that this book will support them, and inspire them to tackle the challenges with the same resolve as the generation that came before."
For Olsen, the book is also personal. As an advocate herself who has spent the last six decades researching, writing, and providing leadership development alongside those in the movement, she has witnessed firsthand their determination, insistence and hope in the face of virulent racist backlash against bilingual education and against welcoming children's languages and cultures into California's schools.
"This book is kind of a love note—an acknowledgement, a recognition of the incredible human beings who have done the work to stop the injuries and damage of a schooling system that has not yet embraced all of our children as equally valuable and who have done the work to create new models of what schools can and should be. So entering into the current chapters in that history, I hope readers will feel fortified, inspired, informed and strengthened in becoming actors in the struggle on the side of educational justice."
Olsen was joined by other leaders in the movement who helped co-author chapters in their areas of expertise including: Maxine Sagapolutele, High School English and ELD Teacher, Grossmont Union High School District ; Vickie Ramos Harris, Director of Educational Equity, Advancement Project California; and JunHee Doh, Senior Policy and Research Analyst in Educational Equity at Advancement Project California.
In the course of 241 pages, the book presents five key sections:
Section 1: Movement Building
The Story of ELLLI: Supporting a new generation of leadership
The San Diego Story: Building a movement for Latino/Chicano educational equity and access
Section 2: Historical Review of Key Issues
Where Are The Teachers? A half century effort to address the teacher shortage for English Learners
For the Youngest Learners: Dual Language Learners in early childhood education
Section 3: Advocacy Campaigns
State Seal of Biliteracy: A ten-year advocacy campaign to reframe bilingualism from problem to asset
Reparable Harm: The advocacy campaign for responsiveness to the needs of long term English Learners
Section 4: The Many Role of Advocates
Lobbying for English Learners and Bilingual Education: The essential role of the lobbyist
The California County Offices of Education: Working within the system and the power of networks to move and English Learner agenda forward
A Nonprofit Organization Supports the Movement: California Tomorrow's immigrant students high school and demonstration project
Advocacy Within the Department of Education: moving the field to meet English Learners' needs through publication and dissemination
Section 5: Appendices
The Sweep of History—A California Timeline
Additional resources
Praise for A Legacy of Courage and Activism:
What does it mean to be an advocate for educational justice? This book provides concrete, clear, concise and powerful examples of advocating from both within the educational system and from the outside. It's an important read for anyone interested in California's education system. I am excited to use it with my teacher preparation students, because I have witnessed how it opens their eyes and hearts to the deep importance of advocacy for bilingual students, and to the history that has gotten us to this point.
— Allison Briceño, Associate Professor Teacher Education at San Jose State University
As a longtime educator, the case studies in this book have proven a critical contribution to my understanding of the history surrounding multilingual learners in the U.S. pushing me to wonder, 'How did I not hear about these events before?' The historical context and stories of advocacy are at the same time informative and motivating, with a nod to those advocates upon whose shoulders we stand.
— Alesha Moreno-Ramirez, Staff Development and Curriculum Specialist at Tulare County Office of Education
The historical struggle for multilingual and educational justice for ethnically and linguistically diverse students is documented in each of the chapters of this book on a clear and personal level. Of importance are the challenges it documents of what has transpired over the past 60 years, and the vision it gives of what awaits each of us as we continue the journey to construct democratic schools and the corresponding pedagogical practices.
— Alberto M. Ochoa, Professor Emeritus San Diego State University
A Legacy of Courage and Activism: Stories from the movement for educational access and equity for English Learners in California is available now for purchase in the Californians Together online store.
About Laurie Olsen
Laurie Olsen, Ph.D., was a founding Board member and currently serves as President of the board of Californians Together. She was part of the original English Learner Legacy and Leadership Initiative (ELLLI) Steering Committee, playing a large role in shaping the leadership development curriculum. Currently serving as Strategic Advisor (and formerly founding Director) to SEAL.org (Sobrato Early Academic Language), she has seen the growth and replication of SEAL's PreK-5 model of English Learner centric joyful and rigorous education into 89 schools across 16 school districts in California. Olsen has spent the last six decades researching, writing, advocating, and providing leadership development and technical assistance on educational equity with an emphasis on immigrant and English Learner education, language access and rights. Working with hundreds of school districts, school leadership teams and county offices of education across the nation, Dr. Olsen has designed, demonstrated, evaluated and implemented powerful PreK-12th grade English Learner programs and services, which support effective school change strategies. Her acclaimed Secondary School Leadership for English Learner Success series has reached hundreds of educators throughout California. She has published dozens of books, videos and articles on English Learner education, including the award winning Made in America: Immigrants in U.S. Schools and Reparable Harm: Fulfilling the Unkept Promise of Educational Opportunity for California's Long Term English Learners. Olsen served as Co-Chair of the California English Learner Roadmap Work Group that created the new English Learner policy for the state, and has served on California Public Schools Accountability Advisory Committee and on then State Superintendent of Instruction Tom Torlakson's Accountability Task Force. For 23 years, Dr. Olsen directed California Tomorrow's work in K-12 education, and served as Executive Director of the organization for ten years. She holds a Ph.D. in Social and Cultural Studies in Education from U.C. Berkeley.
About Californians Together
Californians Together is a statewide advocacy coalition of powerful organizations from all segments of the education community including teachers, administrators, board members, parents and civil rights non-profit groups. Our member organizations come together around the goal of better educating 1.1 million English Learners by improving California's schools and promoting equitable educational policy.
About English Learner Leadership & Legacy Initiative (ELLLI)
Californians Together, in collaboration with the California Association for Bilingual Education (CABE), launched the English Learner Leadership & Legacy Initiative (ELLLI) in 2016 to support the development of a new generation of English Learner education leaders and advocates. English Learner (EL) advocates engaged in ELLLI are equipped to advance proactive projects (such as the current biliteracy campaign) as well as to respond effectively to anticipated policy challenges at state and local levels. In addition to the preparation of selected cohorts of new EL leaders, the project aims to make more widely available an EL leadership and legacy curriculum that can empower many other leaders at the local, regional and state levels. The project draws on the perspectives of many senior EL leaders and current advocates for ELs and uses a blend of in-person convenings and online platforms for large group training institutes, issue-based and regional network group meetings, one-on-one coaching, mentoring and project-based experiences. The English Learner Leadership and Legacy curriculum provides an advocacy framework, historical context, lessons from the past, immersion in research, mentorship, and skill development to inspire and prepare advocates to work at multiple levels (state, district, community) to establish strategic action agendas, move policy and practice, develop and leverage research, work with media, and build and mobilize coalitions championing the right to quality education for English learners.
###
Media Contact: Ashley Aguirre [email protected]