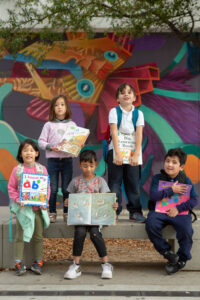 EL RISE! is a momentum-building, support system to help English learning students thrive and lead in a culturally diverse global world. EL RISE! helps students in the following ways:
Providing educators easy access to professional learning
Ensuring English Learners can have access to intellectually rich instruction
Giving students the tools to participate in a globalized environment
Achieving access and equity
About
EL RISE! stands for English Learner Roadmap Implementation for Systemic Excellence, and is a partnership of:
Californians Together
Center for Equity for English Learners (CEEL)
Sobrato Early Academic Language (SEAL)
EL RISE! is funded by a grant from the California Department of Education to support implementation of the visionary 2017 CA English Learner Roadmap policy.
Over the next three years, the three agencies will work with and through 20 County Offices of Education who collectively serve 76.7% of the state's English learners - partnering with county offices to develop capacity to support LEAs in making meaning of the Roadmap principles, understanding their English learner/dual language learner population, becoming familiar with research on dual language development, developing local implementation plans, and implementing those plans across multiple roles and parts of the system.
For more information visit our More About Us page.