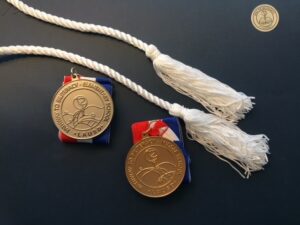 LOS ANGELES, March 26, 2018 – L.A. Unified has been selected to receive the Californians Together 2018 Multiple Pathways to Biliteracy District Recognition Award.  The award celebrates districts that are leading the way to world-class language education in preschool through 12th grade.  The award ceremony will be held at the 2018 CABE Conference on March 30, 2018 at the Seal of Excellence Banquet which begins at 7:00 pm in the Sacramento Convention Center.  
"We hope to inspire the development of strong dual language programs, multiple opportunities and comprehensive pathways enabling all students to reach the goal of high levels of proficiency in two or more languages, fully qualified to earn the Seal of Biliteracy" explained Magaly Lavadenz, President of Californians Together.  
The district met multiple criteria to qualify:
Two years of an established State Seal of Biliteracy Program (grades 9-12)

System of benchmarking progress toward high levels of biliteracy by recognizing and awarding students along a continuum (grades K-8)

Well-articulated pathway programs Pre-K – 12

th

grade

Access to language study across the district and accessible to all communities

Hiring qualified staff

Instituted a district, school and community culture for celebrating languages and cultural diversity
Upon learning about their selection for this award, Vivian Ekchian, Interim Superintendent of the Los Angeles Unified School District said, "It is such an honor to receive the Multiple Pathways to Biliteracy District Recognition. Our District has made a commitment to recognize our multilingual students, and to invest in our employees as we continue to support Biliteracy efforts. Pathways to multi-literacy are at the heart of L.A. Unified's mission to empower globally-conscious leaders of tomorrow."
L.A. Unified has a long history of supporting biliteracy and multilingualism including the unanimous passage of the "Establishing a Commitment to Biliteracy for All" Resolution that sets the establishment of a task force to research the goal of biliteracy upon graduation for students entering kindergarten and supporting the expansion of dual-language programs.
L.A. Unified's commitment to  biliteracy is demonstrated by its many pathways. Currently, the District offers 101 Dual Language programs in Spanish Mandarin, Korean, French Armenian and Arabic. Next year an additional 35 Dual Language programs will be added.  The District also offers (K-5) Maintenance Bilingual (K-5) programs (K-5), Native Speaker (7-12) courses and World Language programs (6-12). Hilda Maldonado, Executive Director of the Multilingual and Multicultural Department describes the district's goal as consistent with the Board's vision to both promote bilingualism and serve historically underserved populations such as English Learners.
To support the District's vision and goals, comprehensive plans have been developed to expand Dual Language and World Language programs and to increase the number of students who are recognized through the Biliteracy Awards, both the L.A. Unified Seal of Biliteracy and the California Seal of Biliteracy. The district has offered the Seal for 8 years, and in 2016-17 offered its own Seal to 3257 students and the California Seal award to 3112 students.
To ensure that a strong teaching force is available to support the increasing number of bilingual and biliteracy programs the district has developed career ladder programs that support teacher assistants, paraprofessionals and interns to receive the bilingual authorization which in the 2017-18 school year expanded to include a 60 member cohort. In addition to a "grow our own" philosophy, the district has also made the recruitment of multilingual teachers a priority.
The publication, The California Campaign for Biliteracy,  published by Californians Together provides details on the campaign whose goal is that California be an example for the nation in preparing students for college and the careers of the future.  The publication provides guidance for districts to develop comprehensive language programs, and describes award eligibility criteria.
Californians Together is a statewide advocacy coalition of powerful organizations from all segments of the education community including teachers, administrators, board members, parents and civil rights non-profit groups. Our member organizations come together around the goal of better educating 1.3 million English Learners by improving California's schools and promoting equitable educational policy.
###